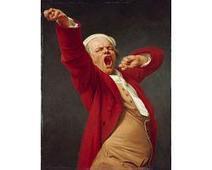 Why does yawning seem to be contagious? It's one of life's little mysteries, and now a group of researchers have explored that question and found …
Empathy is the ability to recognize and share feelings or emotions that are experienced by another person or even an animal. The authors explained that seeing another person yawning can activate brain regions associated with motor imitation, empathy, and social behavior, and that certain neural areas may be over-stimulated when people see the yawn of someone they care about. That over-stimulation may lead to a yawning response.
The next time you or someone else in your environment yawns, you might think about: Does the yawning become contagious? Who is responding to the initial yawn? What is the relationship between the people who are yawning?
by Deborah Mitchell