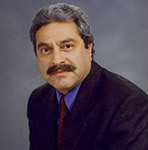 One year ago, a landmark study led by Mohammadreza Hojat, Ph.D., research professor, Department of Psychiatry and Human Behavior at Thomas Jefferson University, quantified a relationship between physicians' empathy and their patients' positive clinical outcomes, suggesting that a physician's empathy is an important factor associated with clinical competence. The study was published in the journal Academic Medicine .
As a follow-up to that landmark study, Dr. Hojat asked if it were possible to improve or even maintain physicians' empathy as a way to further enhance patient care.
Dr. Hojat's team found that empathy can indeed be improved.