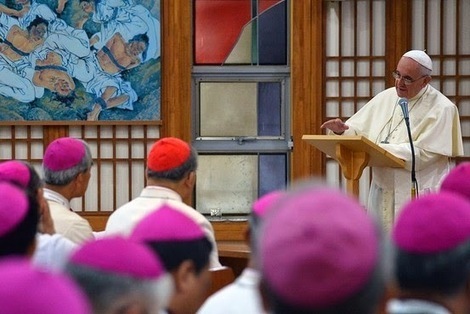 ADDRESS OF POPE FRANCIS
TO THE BISHOPS OF ASIA
HAEMI SHRINE
17 AUGUST 2014
(transcript of where he talks about empathy.)
Nor can there be authentic dialogue unless we are capable of opening our minds and hearts, in empathy and sincere receptivity, to those with whom we speak.
In other words, an attentiveness in which the Holy Spirit is our guide. A clear sense of one's own identity and a capacity for empathy are thus the point of departure for all dialogue…..
Finally, together with a clear sense of our own Christian identity, authentic dialogue also demands a capacity for empathy. For dialogue to take place, there has to be this empathy.
We are challenged to listen not only to the words which others speak, but to the unspoken communication of their experiences, their hopes and aspirations, their struggles and their deepest concerns. Such empathy must be the fruit of our spiritual insight and personal experience, which lead us to see others as brothers and sisters, and to "hear", in and beyond their words and actions, what their hearts wish to communicate.
In this sense, dialogue demands of us a truly contemplative spirit of openness and receptivity to the other. I cannot engage in dialogue if I am closed to others. Openness? Even more: acceptance! Come to my house, enter my heart. My heart welcomes you. It wants to hear you.
This capacity for empathy enables a true human dialogue in which words, ideas and questions arise from an experience of fraternity and shared humanity.
If we want to get to the theological basis of this, we have to go to the Father: he created us all; all of us are children of one Father.
This capacity for empathy leads to a genuine encounter – we have to progress toward this culture of encounter – in which heart speaks to heart…
And so, with my identity and my empathy, my openness, I walk with the other. I don't try to make him come over to me, I don't proselytize.