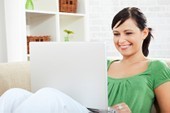 Education, engagement, and creativity produce happier and longer lives.
Your mind may be the closest thing to the Holy Grail of longevity and happiness. Education has been widely documented by researchers as the single variable tied most directly to improved health and longevity. And when people are intensely engaged in doing and learning new things, their well-being and happiness can blossom.
This effect becomes even more valuable as we get older. Even in old age, it turns out, our brains have more plasticity to adapt and help us than was once thought. Old dogs, in short, can learn a lot of new tricks.
"I think most social scientists would put their money on education as the most important factor in ensuring longer lives," says psychologist Laura Carstensen, director of the Stanford Center on Longevity. People with more education get better jobs that pay more money, are less physically demanding, and provide more enjoyment. They live in safer neighborhoods, practice healthier lifestyles, and have less stress…
In terms of happiness, a close companion of learning is the degree of engagement people have with tasks that provide them knowledge and fulfillment. People who are intensely absorbed in a task can lose track of time and place. Hours pass like minutes. They may be tired by the task but emerge energized and happy. This condition is known as "flow," a name coined 30 years ago by psychologist Mihaly Csikszentmihalyi…
The benefits of learning and engagement are particularly important in promoting healthy aging. "Your mind is really like a muscle, and using it is a key" to lifelong mental health, Berkman says. There has been a surge in attention to mental exercise as a way of preventing Alzheimer's disease, for example. While the link between such efforts and disease prevention has not been definitively established, most scientists believe there is a beneficial relationship between lifelong learning and staying socially active with mental well-being and happiness later in life. Older people who become isolated can lose the activities that trigger their minds to engage in enjoyable and stimulating activities…
Jacquelyn James is the director of research at the Sloan Center on Aging & Work and has been overseeing an ongoing study of the benefits that older people derive from continued work. Across a span of activities—paid work, caregiving, volunteering, and education—the levels of engagement people experienced were strongly related to their enjoyment and benefits from the activity. Just being involved in an activity does not produce the benefits of engagement. And engagement needs to be connected with a sense of purpose and achievement to produce happiness.
"As we get older, it is more important to find things to do that light up our lives," James says. Our minds are central to this effort, and thrive when we are finding new things for them to do. Whether it's acquiring a new skill or language (very high on the list of mental acuity benefits), joining a new group and meeting new people, or finding ways to continue using existing skills, successful aging and longevity are built upon patterns of lifelong learning.