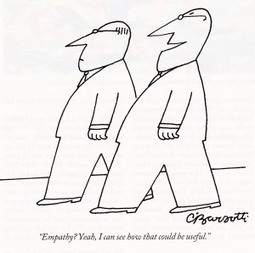 What is empathy and what do we need it for?
Södertörn University, Stockholm
Centre for Studies in Practical Knowledge
August 16-18, 2012
The last ten years we have witnessed an exploding interest in the phenomenon of empathy. The wave of empathy studies is psychology, philosophy, psychiatry and other disciplines is linked to a parallel theoretical interest in the phenomena of feeling, selfhood, inter-subjectivity and morality, but also to practical attempts to understand and improve meetings between workers and clients in different professions, such as health care professions, teaching professions, psychotherapy or social work.
To be empathic is increasingly viewed as a must for any person working in cooperation with and/or helping other people, although, as is also pointed out, the empathy must be professional in character to not produce destructive intimacy or burn out. The question of what "professional empathy" might be and how it is possible, or, indeed, fruitful to attain such ability is an interesting one in itself.