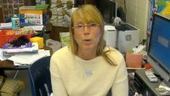 Hillside Elementary School adopts "Walk in My Shoes" program to teach students to support and empathize with their peers who have learning challenges.
It is a truth universally acknowledged that elementary schools can teach kids to sound out words, recite multiplication tables and draw turkeys for Thanksgiving by tracing their hands and adding feathers…but can schools teach kids to empathize?
"Yes," says Hastings' Hillside Elementary School Principal Laura Sullivan.