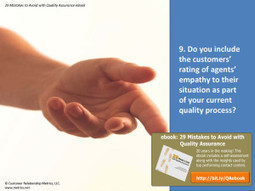 Do customers need more empathy? How do you know?
The 29 Quality Assurance Mistakes to Avoid e-book and self-assessment includes the question "Do you include the customers' rating of agents' empathy to their situation as part of your current quality process?" The e-book contains reflective questions designed to uncover opportunities with Quality Assurance programs within contact centers. Identifying opportunities or detecting weaknesses is a critical step on the journey to elevate your contact center to one of undeniable importance to the organization. Let's not get too focused on finding answers in a benchmarking report.
==========================
So how can you determine when
customers need more empathy?
===========