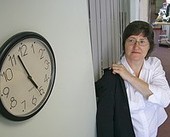 When we are dissatisfied with our jobs, often our first instinct is to say, "Get out!" The very next thought is, "I can't!" Then we feel stuck, and the emotional downward spiral begins.
Jim Manske's insight:
Aloha all,
This may be my last update for awhile.
We are offering NVC training in Korea and Japan.
For info and to join us, first visit http://radicalcompassion.com/
Warm mahalo for supporting this news feed.
Aloha,
Jim