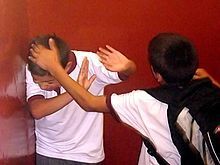 Researchers at the University of New Hampshire have learned that teaching students civility and empathy early on can help prevent incidences of bullying.
They have learned it through the application of the nationally recognized "Courage to Care" bullying prevention program created by UNH researchers and educators and unveiled in 2011.
More than 60 middle schools nationwide use the program, and more and more teachers participate in a three-day leadership training course on the program at the Browne Center each year.
Now, future educators can also learn how to teach the program in a new course offered through UNH's graduate education program titled "The Courage to Care: Teaching Empathy in the Classroom."
img http://en.wikipedia.org/wiki/Bullying