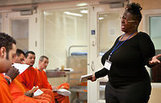 "Restorative justice," an alternative to punishment for violent criminals, has gained backing in San Francisco, even among some candidates for district attorney.
Often, candidates for a county's top law enforcement office compete to show who can be toughest on crime. But San Francisco has a history of freethinking district attorneys — Terence Hallinan, who held the office from 1996 to 2004, advocated the legalization of marijuana and prostitution — and restorative justice has become a buzzword in this year's five-way race.
David Onek, a lawyer, a former police commissioner and founder of the Berkeley Center for Criminal Justice, has led the charge, making incarceration alternatives and restorative justice the centerpiece of his campaign.
"Do you know what happens when you're locked up?" he said. "You sleep all day and watch daytime TV. You're watching Jerry Springer, and someone feeds you three hot meals a day. Admitting what you did, confronting your actions, hearing from a victim about the impact that things have had on them, that's tough."
Mr. Onek said he would start by using restorative justice techniques broadly in the district attorney's juvenile division, in an attempt to steer young offenders away from jail.
George Gascón, the former police chief who was appointed district attorney in January when his predecessor, Kamala Harris, ascended to state attorney general, has embraced the cause as well. That has raised some eyebrows, as Mr. Gascón, the presumptive favorite in the race, is considered to be well to the right on San Francisco's left-leaning political spectrum.
Mr. Gascón noted in a recent interview that his office already oversees restorative programs like "neighborhood courts," where victims and community members can weigh in on consequences for low-level offenders.
A third candidate, Sharmin Bock, a 22-year Alameda County prosecutor, is also promoting the concept.