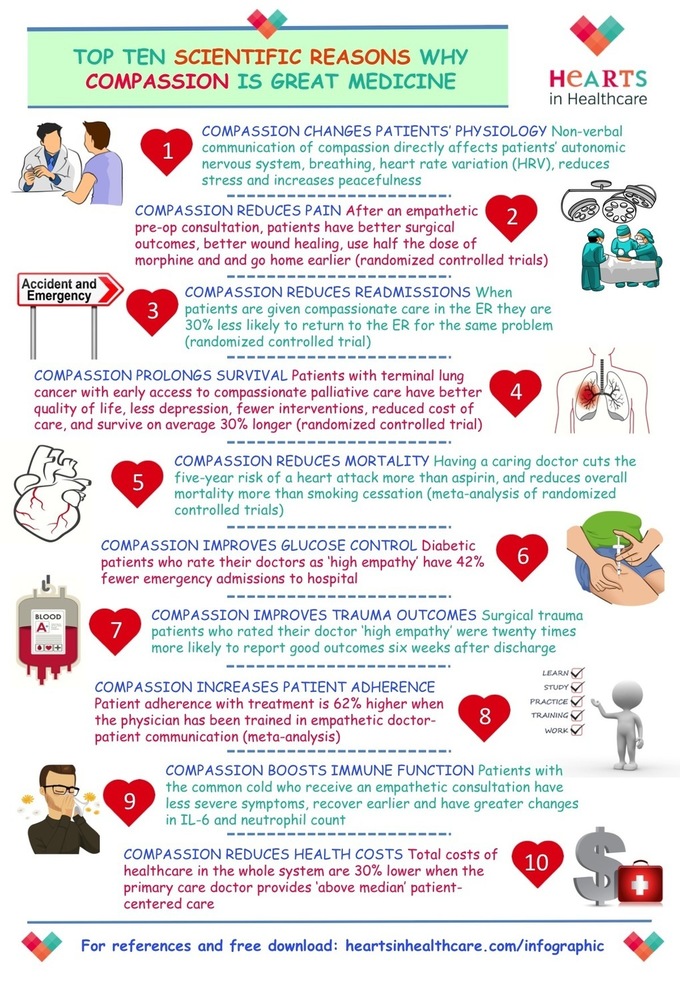 References
1. Kemper KJ, Shaltout HA. Non-verbal communication of compassion: measuring psychophysiologic effects. BMC Complement Altern Med. 2011;11:132.
Pereira L, Figueiredo-Braga M, Carvalho IP. Preoperative anxiety in ambulatory surgery: The impact of an empathic patient-centered approach on psychological and clinical outcomes. Patient Educ Couns. 2016;99(5):733-8.
2. Egbert LD, Battit GE, Welch CE, Bartlett MK. Reduction of Postoperative Pain by Encouragement and Instruction of Patients. A Study of Doctor-Patient Rapport. The New England Journal of Medicine. 1964;270:825-7.
3. Redelmeier DA, Molin JP, Tibshirani RJ. A randomised trial of compassionate care for the homeless in an emergency department. Lancet. 1995;345(8958):1131-4.
4. Dahlin CM, Kelley JM, Jackson VA, Temel JS. Early palliative care for lung cancer: improving quality of life and increasing survival. Int J Palliat Nurs. 2010;16(9):420-3.
5. Kelley JM, Kraft-Todd G, Schapira L, Kossowsky J, Riess H. The influence of the patient-clinician relationship on healthcare outcomes: a systematic review and meta-analysis of randomized controlled trials. PLoS One. 2014;9(4):e94207.
…
Download the Compassion infographic here and feel free to share it.