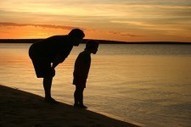 Emotional Intelligence is a larger factor in adult life success than general intelligence. Here are three clear guidelines for raising a child with high EI.
Three Parenting Tips to Maximize Your Child's Emotional Intelligence:
Pay attention. Work hard to see your child's true nature. What does your child like, dislike, get angry about, feel afraid of, or struggle with? Feed these observations back to your child in a non-judgmental way so that your child can see herself through your eyes, and so that she can feel how well you know her.
Life Advantage: Your child will see herself reflected in your eyes, and she will know who she is. This will give her confidence in her life choices and will make her resilient to life's challenges.
Feel an emotional connection to your child. Strive to feel what your child is feeling (empathy), whether you agree with it or not. When you feel your child's emotion, he will feel an instant bond with you.
Life Advantage: Your child will learn empathy and will have healthier relationships throughout his life.
Respond competently to your child's emotional need. Do not judge your child's feeling as right or wrong. Look beyond the feeling, to the source. Help your child name her emotion. Help her manage the emotion.
Life Advantage: Your child will have a healthy relationship with his own emotions. He will naturally know that his feelings are important and how to put them into words and manage them.
No parent can follow these tips perfectly, of course. This is not about perfection; it's about making the effort. Effort in itself shows love and care. When your child sees you trying to understand his feelings or feel his feelings, whether you succeed or not, he receives a powerful message:
Your feelings matter to me.
And what your child will hear:
You matter.