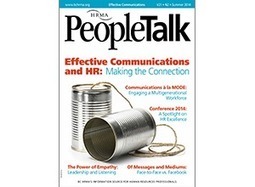 By Isabelle St-Jean
Leadership and the Language of Empathy
A strong resonance carried over in a subsequent breakout session, "Why Empathy Should Matter" led Dr. Craig Dowden. Via awareness generating exercises and a list of recommended reads on the subject, Dr. Dowden made an eloquent case for the importance of empathy in the workplace.
Citing The Narcissism Epidemic, which measures a drop of empathy in our culture of 30 per cent in the past few decades, Dr. Dowden focused on what can be done to turn the tide on such numbers.
Once again, learning to listen
— and with more than our ears—
is key.