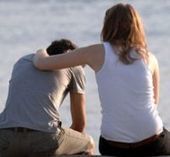 Along this empathic continuum we have things
like sympathy, understanding, pity,
sensitivity, acceptance,
and compassion.
When parents provide this for their children it takes on special importance. Empathy is then called attunement or mirroring, and a young child's well-being or even survival depends on it.
While all resonance along the empathic continuum is affirmative, some are more costly than others, requiring more or less adjustment of our own personal needs or attitudes. Interpersonal resonance is a skill, a gift, a choice, and a commitment.
On the empathic continuum, pity is the least demanding because it posits a degree of separateness between or among persons or groups.