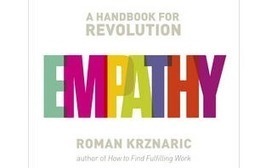 I know it is absurdly early in the year to be choosing the top book of the year, but here goes. I recommend Empathy by Roman Krznaric for both the quality of the content and its importance.
Our Big Ideas Project – which aims to identify the 20-25 most important interventions to deliver wellbeing to people and the planet – is predicated on a belief that we can get ourselves out of the social and environmental hole we have dug ourselves. We can do so, we believe, because humans can be ingenious, collaborative and empathetic.
Krznaric is on a mission to boost the third of these, empathy.
Empathy, he tells us, is 'the art of stepping imaginatively into the shoes of another person, understanding their feelings and perspectives, and using that understanding to guide your actions.'
Rejecting individualism
Krznaric rejects the self-interested individualism that has been promoted for over 300 years by thinkers such as Thomas Hobbes, Adam Smith, Sigmund Freud and Richard Dawkins. Instead he draws on the latest understanding of psychology, evolutionary biology and neuroscience to demonstrate that we are naturally empathetic.
Mike Childs