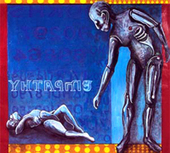 In the spring semester of 2005, the Scripps College Humanities Institute program will focus on Empathy.
\What does it mean to feel (or think) as another? When we consider the structure and obligations of social relationships, ourselves and others, justice and equality, reason, emotion, and values in politics and in social relationships, this is a topic of considerable interest. It is also, strikingly, a topic of various disciplines, sometimes, although not always, crossing the boundaries of those disciplines. Our work during the semester will be to pursue those intersections and blurring of disciplinary boundaries by bringing together scholars in such fields as neuroscience, philosophy, psychology, literary criticism, history, anthropology, art history, media studies, legal studies, and musicology.
One of the challenges of the semester will be to explore how—and why—"empathy" is a shared focal point in these otherwise very different enterprises. Why is it of such interest? What does it tell us about our human selves and about our relationships to others?
February 10, 2004 – Claudia Strauss Professor of Anthropology, Pitzer College
Is Empathy Gendered and If So, Why?
January 27, 2005 – Benjamin Vilhauer
Empathy and Remose
February 17, 2005 Jean Decety Professor and Head of Social Cognitive Neuroscience Institute for Learning and Brain Sciences
The Functional Architecture of Human Empathy
February 17, 2005 – Evan Thompson
Empathy and Consciousness
February 17, 2005 – Dorothy Otnow Lewis, M.D. Clinical PRofessor, Yale University
Ethical Implications of Pur Knowledge about Violence
February 28, 2005 – Stephen Darwall – John Dewey Collegiate Professor of Philosophy, University of Michigan
Empathy, Respect, and the Second-Person Standpoint
March 2, 2005 – Jennifer Goltz – Professor of Voice and Music Theory, Scripps College
Finding the Piece: How a Performer Prepares
March 3, 2005 – Alison Landsberg – Assistant Professor of American Cultural History and Film,
Spectatorial Engagements: Empathy and the Politics of Identification

March 3, 2005 – Dominic Lopes –

Professor of Philosophy and Distinguished University Scholar, University of British Columbia


Empathy through Art

March 3, 2005 – Marion Guck – Louise Cuyler Collegiate Professor of Music, University of Michigan


What Music Elicits: Empathy, Antipathy, and Other Modes of Response

March 31, 2005 – William Reddy – William T. Laprade Professor of History and Professor of Cultural Anthropology at Duke University –

Empathizing with What? The Emergent Character of Emotions

March 31, 2005 – Jacqueline Stevens – Law and Society Program, UC Santa Barbara


Empathy Research in the 1950s and 1960s

March 31, 2005 – George Lakoff

Professor of Linguistics at UC Berkeley and Senior Fellow at The Rockridge Institute


Keynote Address

April 1, 2005 – Norma Feschbach — Professor of Psychology at UCLA


"Children's Empathy: Its Potential for Social Development and Education"

April 1, 2005 Virginia Held – Distinguished Professor at the City University of New York Graduate School and Hunter College


"The Caring Person"

April 1, 2005 Colin Allen —- Professor of History and Philosophy of Science at Indiana University


"From Observation to Empathy for Animals: Is This Moral Progress?"

April 1, 2005 – Kenneth Reinhard – Associate Professor of English and Comparative Literature at UCLA


"Otherwise than Empathy: The Ethics of the Neighbor in Lacan and Levinas"

April 7, 2005 – Christian Hubert Architect, – New York


Outside/in: Frank Gehry and Empathy

April 7, 2005 – Juliet Koss Assistant Professor of art History at Scripps College


Thoroughly Modern Empathy