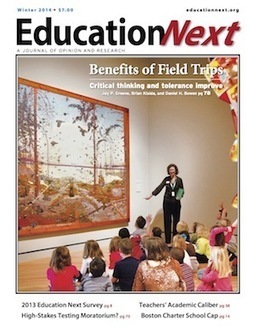 Taking students to an art museum improves critical thinking skills, and more By Jay P. Greene, Brian Kisida and Daniel H. BowenHistorical Empathy. Tours of art museums also affect students' values. Visiting an art museum exposes students to a diversity of ideas, peoples, places, and time periods. That broadening experience imparts greater appreciation and understanding. We see the effects in significantly higher historical empathy and tolerance measures among students randomly assigned to a school tour of Crystal Bridges.
Historical empathy is the ability to understand and appreciate what life was like for people who lived in a different time and place. This is a central purpose of teaching history, as it provides students with a clearer perspective about their own time and place. To measure historical empathy, we included three statements on the survey with which students could express their level of agreement or disagreement:
1) I have a good understanding of how early Americans thought and felt;
2) I can imagine what life was like for people 100 years ago; and
3) When looking at a painting that shows people, I try to imagine what those people are thinking. We combined these items into a scale measuring historical empathy.
Students who went on a tour of Crystal Bridges experience a 6 percent of a standard deviation increase in historical empathy.