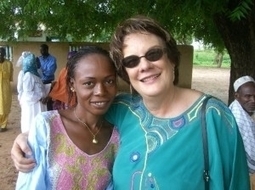 Q: Hillary Rodham Clinton said that However Long the Night's story is "proof that commitment can drive transformational change." How do you think Tostan is changing the way we approach development?
A: I feel that empathy is often forgotten in the world of development. People are outraged about what's going on in the world – and with very good intentions, they translate their outrage into telling people, "This is wrong!" or "Stop this immediately!" But we are talking about systemic change, and that goes deeper than telling people what to do.
There are things that are difficult to accept. I have had to live through the sights and stories of little girls being cut, hemorrhaging, and dying. And you are outraged. But with outrage alone, you can maybe save one girl, possibly a few girls. You need strategy to reach a critical mass of people who can make this a thing of the past – quicker than we ever thought possible.