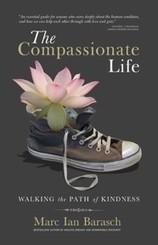 "An argument for compassion that is balanced yet persuasive — and long overdue. This book ought to be a compulsory read for all." –ARCHBISHOP DESMOND TUTU, Nobel Peace Prize Laureate
With a keen balance of hope and skepticism, Marc Barasch sets out on a journey to the heartof compassion, discovering its power to change who we are and the society we have become. He describes encounters with empathetic apes, and with Buddhist monks whose brain scans prove the power of compassion practice; with a man who donated a kidney to a stranger and another who forgave his daughter's murderer; with teenage Palestinian and Israeli girls trying to wage peace; even with astronomers trying to send a missive to E.T. that we're not only clever, but kind.
With unfailing curiosity, Barasch poses vital questions: What can we learn from exceptionally empathetic people? Can we increase our compassion quotient with practice? How do we open our hearts to those who do us harm? What if the great driving force of our evolution were actually "survival of the kindest?" He comes up with challenging, ultimately inspiring answers. Drawing on science and spirituality, history and popular culture, button-down business and a high sense of fun, he creates a smart, provocative argument that a simple shift in consciousness changes pretty much everything.