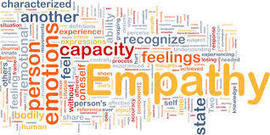 When speaking with managers in the customer service industry, this comment is often repeated – "I just wish I could get my people to show more empathy towards to the customer."
Empathy – The big E word in customer service. One's ability to sincerely interject this trait in customer service is critical. It's important to properly express empathy when customers are upset or angry with your company's products or services.
=======================
Let's look at a few ways to
express empathy.

================
How Would I Feel?…
What Would I Expect? …
Do I Trust You? …
Are You Listening? …
Edwin Rutsch's insight:
How Would I Feel? –