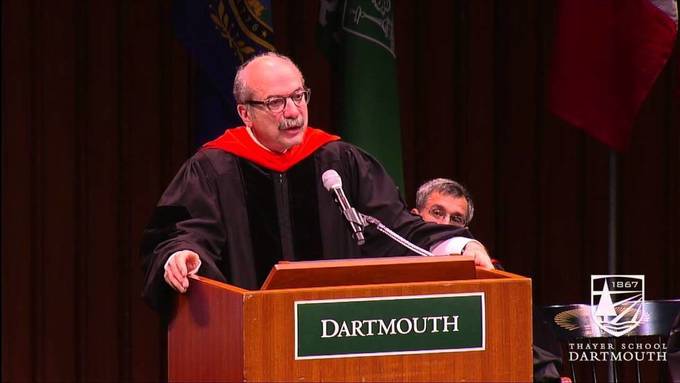 David Kelley, founder and chairman of IDEO and Professor at Stanford University, speaks at Thayer School of Engineering at Dartmouth's Investiture on June 7, 2014.
"to be successful in the world you need to have a wide perspective."

"This allowed me to focus on one thing, one thing I'm really passionate about and that's an important skill for engineers, and that skill is called empathy. To build great stuff today we really have to collaborate with people, especially people that we want to use the things that we come up with. But it's a team sport. I believe that engineering is a team sport now. So having empathy for your colleagues, as well is important, especially for non techies. And we do have to learn to create with everyone around us."

"thought you might not know it I think empathy is an engineers greatest strength. And history provides a lot of examples of that."

"Empathy allows us to walk in each others shoes… Many schools have been slow to start teaching this point of view. That makes a lot of peoples education incomplete."
We find that with more empathy, with more of a human-centered approach, people are able to do that more easily. They are more motivated and become more effective in their lives.
We believe that more than any technical skill that you can get as an engineer, empathy for others will allow you to gain that creative confidence and be able to innovate more routinely and accomplish what you set out to do."
"Don't just have the ambition to be a great engineer, have the ambition to be a great human. Wear your empathy as a badge of honor. It will allow you to do your best work."