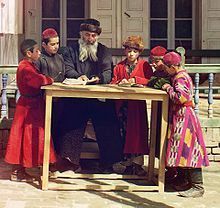 Can you remember a time when you heard a baby cry, and suddenly a lot of other babies started crying? You may not have known it, but that was empathy.
What is empathy?
Empathy is when we try to understand someone's feelings from their perspective, and then we desire to help that person (Swick, 2005). Newborn babies react instantly to the distress of others by crying themselves. They are still too young to understand how to help others, but the empathy is there.
Empathy develops as a child's brain and thinking abilities develop, but parents can have a big influence on the resulting empathy their children have. If they encourage empathy, their children will be more empathic to others. If this is neglected, children get out of practice and may stop being so empathic.
image http://en.wikipedia.org/wiki/Teacher