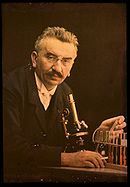 Max Planck scientists discover brain cells in monkeys that may be linked to self-awareness and empathy in humans.
The anterior insular cortex is a small brain region that plays a crucial role in human self-awareness and in related neuropsychiatric disorders. A unique cell type – the von Economo neuron (VEN) – is located there.
For a long time, the VEN was assumed to be unique to humans, great apes, whales and elephants. Henry Evrard, neuroanatomist at the Max Planck Institute for Biological Cybernetics in Tübingen, Germany, now discovered that the VEN occurs also in the insula of macaque monkeys.