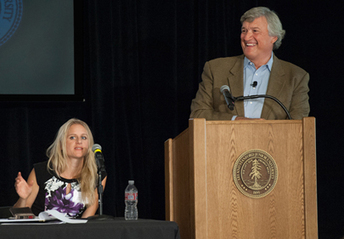 Stanford brought together educators and entrepreneurs at the first-ever Compassion and Technology Conference to discuss how to uplift humanity in a gadget-driven society full of distractions.
Social entrepreneurs, engineers and scientists explored how to open hearts in a world of cell phones, texting and computers at the inaugural Compassion and Technology Conference at Stanford on Dec. 6.
"Science shows us that compassion is fundamental to our health and well-being," said one of the panelists, Emma Seppala, a psychologist and associate director of Stanford'sCenter for Compassion and Altruism Research and Education. Hundreds of people filled the room at the Li Ka Shing Center for the all-day affair.