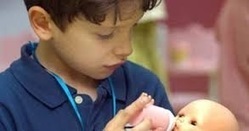 Too often children's playrooms reinforce gender stereotypes that put boys at risk of failing to gain skills critical for success in life and work. The most important of these? Empathy.
Meg Bear, Group Vice President of Oracle's Social Cloud, calls empathy "the critical 21st century skill." She believes it's the "difference between good and great" when it comes to personal and professional success.
Researchers at Greater Good Science Center out of the University of California, Berkeley, echo Bear's assertion. They define empathy as "the ability to sense other people's emotions, coupled with the ability to imagine what someone else might be thinking or feeling.
Why is empathy important?
First, empathy breeds courage. In a recent study of nearly 900 youth, ages 11-13, Nicola Abbott and Lindsey Cameron's, psychology researchers at University of Kent, found that participants with higher levels of empathy were more likely to engage in "assertive bystander behavior."
By Gayle Allen and Deborah Farmer Kris