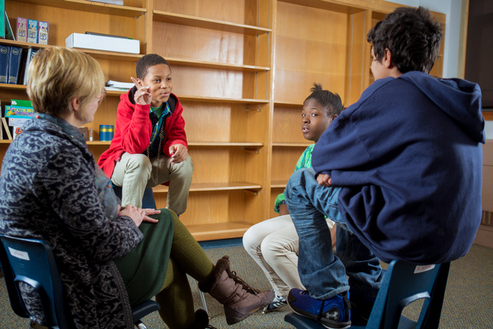 ]Restorative Circles, a new program at Godfrey Lee Middle School, teaches conflict resolution skills and builds empathy with help from the Dispute Resolution Center of West Michigan.
The goal of the restorative plan is to restore harmony to the school, so the teacher can get back to teaching and students can focus on learning, Gilman says. The circle process also fosters empathy, active listening, and healthy communication skills. Participants are encouraged to share their thoughts, feelings and points of view.

The Dispute Resolution Center secured several grants to offer Restorative Circles at Godfrey Lee, including one from the Wyoming Community Foundation and two at the state level. Godfrey Lee was identified at the state level for being a school with a large disparity between the suspension and expulsion rates of special education and minority students versus white students, Gilman says. Curry says the school has a high minority population and very few fights.
MARLA R. MILLER