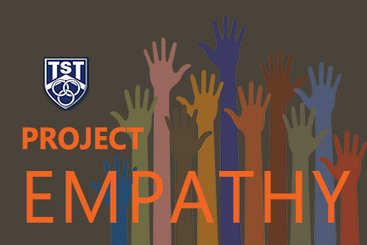 Project Empathy was originally developed by All Saints Episcopal School in Ft. Worth to create awareness and an empathetic understanding of the local homeless community as well as to encourage students to serve the community in which they live. With the help of All Saints Episcopal School, Trinity is blessed to offer Project Empathy to its students.
To kick-off Project Empathy, the Reverend Jennene Laurinec, Executive Director of Newgate Mission and parent of TST alumnae, spoke to our middle and upper school students on Monday, November 17th about the homeless population in Longview. Following the kick-off, The Thanksgiving Food Drive could not come at a more opportune time to teach our students about the importance of helping feed people in need and how we can all make a difference.
During the month of January, TST will host a campus-wide Blessing Bag drive. February will offer one of the most interesting activities associated with Project Empathy and one that will have great impact, an outdoor overnight for middle school students. Middle school students will participate in an overnight on campus where they will role play, take part in poverty simulations, and sleep outdoors.
Project Empathy will conclude in the spring on Maundy Thursday with a chapel service. As we continually develop Project Empathy for our students, there may be more activities added throughout the year.