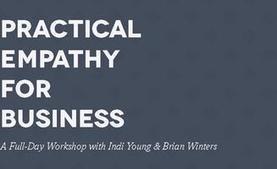 Why Empathy for Business?
There is tremendous power in an organization that can collectively see their customers through a lens of empathy. Empathy has a direct impact on what you create for customers and understanding the "deeper drivers" of customers will equip you with the insight needed to move the needle on your business metrics.
There are two parts to empathy:
developing it, then applying it.
We've constructed a two-part workshop designed to give you the skills required to first harness empathy and then share it with impact.
Lunch will be included. Please contact us if you have special dietary requirements.
Who Should Attend This Workshop?
Anyone making decisions about the direction of a product, service or process (external or internal) for your organization.
For example: Developers, Project Managers, Design Researchers, Technical Writers, Team-Of-One Folks, Entrepreneurs, Higher-Ed, Non-Profits.
Morning Workshop – Empathy Is Not An Interview
Many have been taught to collect data in traditional interview formats in which they simply ask a standard list of questions and then compare the answers across multiple people. This is the wrong approach to empathy. To develop empathy, you need to be able to hear participants' inner reasoning in order to uncover the guiding principles that influence their reactions and behaviors.
This workshop will help you gain confidence with "questionless" listening sessions. You will learn how to:
Helping others to empathize with the customer starts by piquing their curiosity about the customer and what it would be like to take a walk in the customers' shoes.
About Indi & Brian:
Indi Young is an expert consultant in empathy research and user experience.