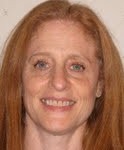 On the eve of winter, Integral New York examined empathy and "the miracle of we."
Gilles Herrada led twenty-four Ken Wilber Meet Up participants in exploring questions such as: How important is empathy to Integral theory?
How does empathy look through the lens of the four quadrants? And how do we each experience and act (or not act) on empathy in our daily lives?
As New Yorkers, we began by acknowledging our ambivalent responses to homeless people and street beggars.
Here the distinction between feeling empathy and acting on it emerged.
by Robin Reinach