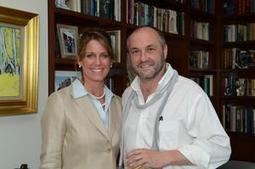 Narrative 4 (N4), an organization that aims to foster empathy through the power of storytelling, built emotional bonds in a powerful workshop on Nov. 5.
The workshop, led by author and founder Colum McCann and executive director Lisa Consiglio, centered around empathy-driven social change. The crux of the workshop, and of N4's mission, was "story exchange," wherein two people share personal stories and then retell each other's stories to the larger group. Consiglio defined N4 as being "founded for authors by authors, for writers by writers, and for educators by educators."
N4 currently focuses on 10 states in the U.S. as well as Ireland, Israel, Mexico and South Africa. "Instead of starting with one city, we put it out into the world and watched it grow," Consiglio said. N4 has set up story exchanges all over the world, including one between schools affected by gun violence on the South Side of Chicago and schools in Newtown, Conn. in the aftermath of the Sandy Hook massacre.