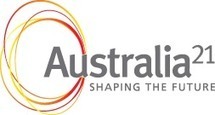 Australia21 presents Mindfulness, Empathy & Compassion – The Building Blocks of a Mindful Nation. Proudly supported by The University of Melbourne and SANE Australia.

Do you want to live in a more mindful nation? If so, what do we need to do to get there?
Explore with Australia21 Mindfulness, Empathy and Compassion for change.

The objective of this forum is to investigate how to apply the skill of mindfulness, the competency of empathy, and the motivation of compassion into the decision making of Australia's political, industry, health, education and community sectors, by bringing together leading thinkers, policy makers, practitioners and researchers in these areas.
As neuroscience reveals more about the workings of the brain – we are better placed to understand our mind and improve our interpersonal communication. This new science highlights the importance of empathic behaviour in increasing social wellbeing.