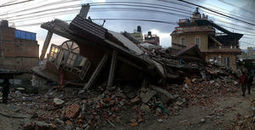 In response to "Even an Earthquake Can't Stir Student Empathy," an opinion piece by Ranjan Adiga in the Chronicle of Higher Education, The Red & Black set out to find if a lack of empathy was apparent within the student body at the University of Georgia.
"We must recognize the empathy vacuum in our classrooms and, as an extension, in society,"
wrote Adiga, an assistant professor of English at Westminster College in Salt Lake City. He based this judgment upon a single day in a single classroom: April 27, 2015, two days after a massive earthquake shook Nepal and killed over 8000 people. Adiga is originally from Nepal and had family still living in the country at the time of the quake.