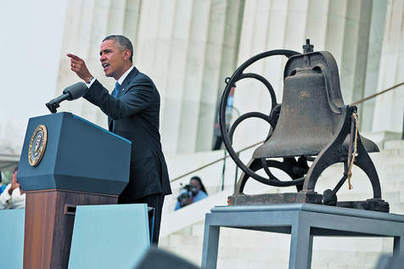 For America to move forward, to become more just and strong, we need to put "united" back into the United States.
That was the message a passionate President Barack Obama brought to the Lincoln Memorial Wednesday as he spoke on the 50th anniversary of the historic March on Washington. The president called on all Americans to put aside their differences and work to make good jobs, education and health care a reality for everyone willing to work for them.
To do that, he said, "We'll have to reignite the embers of empathy and fellow feeling."
…Those are challenges, but they are no greater than the barriers faced by the marchers of a half century ago. Those determined idealists forced huge changes for the better, and we can do so again.

If we can find within ourselves the empathy to walk in another's shoes.