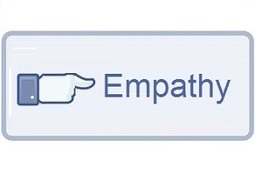 The button Facebook is likely considering is some version of an "EMPATHY" button. A modern translation for EMPATHY might be "I feel you."
It's hard to "Like" when someone posts that her beloved mother died, or that he just lost his job. But it would be easy to click "EMPATHY." The "EMPATHY" button would address the problem Zuckerberg described this way:
"People share things that are sad, or are tough cultural or social things, and people tell us they are not comfortable pressing 'like.'" You can't really "Like" Zuckerberg's dilemma, but surely you can empathize
"There are more sentiments that people
want
to express than just
positivity
or that they like
something.
… so one of the things we've had some dialog about is internally and
thought
about for quite a while is what's the right way so people can easily express a broader ranger of emotions, to
empathize
or to express
surprise
or laughter or any of these things". Mark

Zuckerberg