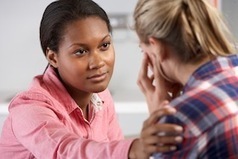 We can threatened by another person's stress, says Rick Hanson. So how do you stay open, caring, and brave enough to help them?
Humans are an empathic, compassionate, and loving species, so it is natural to feel sad, worried, or fiery about the troubles and pain of other people. (And about those of cats and dogs and other animals, but I'll focus on human beings here.)
================================
To sustain this openness, it helps to have a sense of your own body. Tune into breathing, and steady the sense of being here with the other person's issues and distress over there.
=============
By Rick Hanson