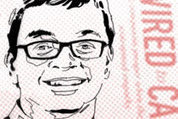 The importance of developing deep connections with the people you serve.
A few years ago, my publisher asked me to write a book about innovation. They'd read some of the articles I've written on the subject over the years, and they wanted more. And although I was flattered, I had to tell them no. The world didn't need another book on innovation — there are too many as it is. I instead made them a counter-offer: Maybe what the world needed was a book about empathy.
… That's why I ended up writing Wired to Care, which shows how great companies around the world, from Nike to IBM, benefit from building a culture of widespread empathy for the people they serve.
By Dev Patnaik, Founder and Principal, Jump Associate