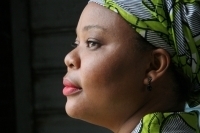 Nobel winner Leymah Gbowee helped inspire "Women, War, and Peace," now airing on PBS. By Jesse Ellison.
Four years ago, when producers Abigail Disney, Pamela Hogan, and Gini Reticker hatched the idea for Women, War, and Peace, the five-part documentary series currently airing on PBS, they couldn't possibly have predicted quite how perfect their timing would be. Just three days before the first episode premiered, one of their real-life heroines, Leymah Gbowee, was among three women to win the Nobel Peace Prize for her work shepherding peace into a war-ravaged region of sub-Saharan Africa.
As Disney was putting the film together, she was stunned by the dearth of footage documenting the women's extraordinary efforts. (There was, of course, no shortage of film showing combat and warlords.) Hogan, meanwhile, was simultaneously struck by the realization that in the seven seasons that she'd been producing PBS's Wide Angle, an award-winning show focused on international news, virtually every story that aired that had to do with war had focused on men almost exclusively. The resulting collaboration proved truly prescient.
Not only did Gbowee just win the Nobel Prize, but the series also comes on the heels of a slew of watershed moments for women. Last month, Brazilian president Dilma Rousseff became the first woman to open the United Nations General Assembly. And just a week earlier, Secretary of State Hillary Clinton chaired the first-ever Asia-Pacific Economic Cooperation High-Level Policy Dialogue on Women and the Economy. Her main message? That female empowerment and inclusion—both politically and economically—lead to stronger economies, less warfare, and greater political stability.