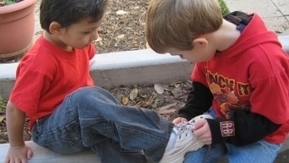 Can you teach kids to be more caring and empathic? How to Encourage Empathy?
=============================
There's probably not a better trait that
makes the world a better place
than empathy.
===============
When we feel for others, we want the best for them. Kids who are empathic reach out and help others, are unlikely to bully or even be a by-stander in bully situations. In other words they care, Jacob Azzerod, author of From Difficult to Delightful in 30 Days offers a few tips on how to encourage empathy in kids. You're not going to teach children to be empathetic by telling them to be empathetic or even by being empathetic yourself.