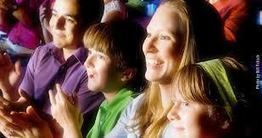 How Theater can teach children to learn empathy
Perhaps a little empathy training, presented within a fun scenario on a stage, could truly help children learn more desirable behaviors. As parents, we're often on a mission to correct our children's poor decisions, especially when it comes to sharing or disagreeing with friends or siblings. Emotions and empathy may be inextricably linked, but it's not always easy for young people to learn empathy. But for those who master that skill earlier in life, they may find it easier to form greater bonds with others as they get older.
Today, there is even a growing body of research on empathy. Marc Brackett, Ph.D. is the Director of the Yale Center for Emotional Intelligence, Senior Research Scientist in Psychology, Faculty Fellow in the Edward Zigler Center in Child Development and Social Policy at Yale University.
by Julia Sherwin