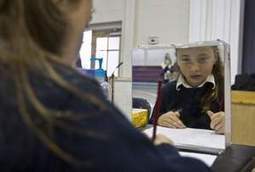 "Capabilities Day" at Holy Cross was part of a Catholic Schools Week program designed to give students a peak into what living with a disability is like, and help foster empathy for children different than themselves, Principal William Belluzzi said.
"Kids have the opportunity to take a look at some challenges that life can provide, but still see themselves as capable (despite a disability)," Belluzzi said.
Blindfolded, 10-year-old Bella Scott of Sea Bright sightlessly navigated purple road cones by tapping a red-tipped pole to feel her way.