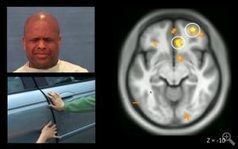 Psychopaths are not neurally equipped to have concern for others
A study of 80 prisoners used functional MRI technology to determine their responses to a series of scenarios depicting intentional harm or faces expressing pain. It found that psychopaths showed less activity in areas of the brain linked to empathy.
"A marked lack of empathy is a hallmark characteristic of individuals with psychopathy," said the lead author of the study, Jean Decety, the Irving B. Harris Professor in Psychology and Psychiatry at UChicago. Psychopathy affects approximately 1 percent of the United States general population and 20 percent to 30 percent of the male and female U.S. prison population. Relative to non-psychopathic criminals, psychopaths are responsible for a disproportionate amount of repetitive crime and violence in society.
By William Harms