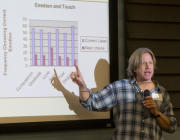 Last week, Facebook invited national experts to its Palo Alto campus to share the science behind compassion and altruism. In the audience, engineers listened intently to ideas about humanizing interactions.
Humans are hard-wired for compassionate behavior and receive physiological boosts from feel-good neurotransmitters such as oxytocin and dopamine when they deploy their better nature, said researchers from a Stanford University compassion institute and UC Berkeley's Greater Good Science Center.
It's that science behind the benefits of good behavior that caught the attention of Arturo Bejar, director of engineering at Facebook.
By Suzanne Bohan