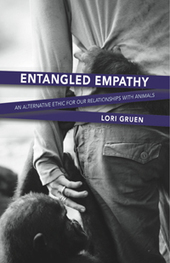 Today we bring you an excerpt from Lori Gruen's new book, Entangled Empathy: An Alternative Ethic for Our Relationships with Animals. Flock members — read on past the except for your chance to win a copy of this book! (Not a flock member yet? Join us!)
Lori's summary: As an activist and a scholar I have come to see the idea of 'animal suffering' that is so central to the animal movement as far too general and broad. The general slogans of the movement don't usually convey any of the depth of the experiences particular chickens, chimpanzees, cows, cats, and others have — experiences that make their suffering specific for them, from their point of view.
And this is related to a second thing that has dawned on me: It is hard to get other people to see what was wrong with causing animals to suffer just by telling them that animals suffer.
If we really want to make a positive difference for other animals, we need to acknowledge that we are alreadyin relationships with them, and for the most part, they aren't good relationships. We need to radically rethink these relationships if we want to improve everyone's wellbeing.
I propose 'entangled empathy' as a tool in helping us improve our various, complicated relationships.