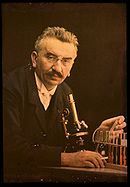 The Evens Foundation strongly believes that science has a role to play in promoting a more harmonious society in Europe. It thus supports relevant scientific research in the framework of its Science Prize.
This year's scientific challenge focused on the highly exciting and fascinating topic of the neuroscience of empathy. No fewer than 20 proposals were submitted.
On the 31st of Ocotber the international expert jury unanimously selected the project 'Upregulating the neural substrates of empathy via neurofeedback' of Professor John Gruzelier (Goldsmiths, University of London) and Professor David Sander (University of Geneva). We cannot wait to see the results of their research, which will explore a new way to directly boost the neural and behavioral substrates of empathic concern.
The prize will be awarded during the 2014 Meeting of the Society of Applied Neuroscience (30 Jan – 2 Feb 2014).