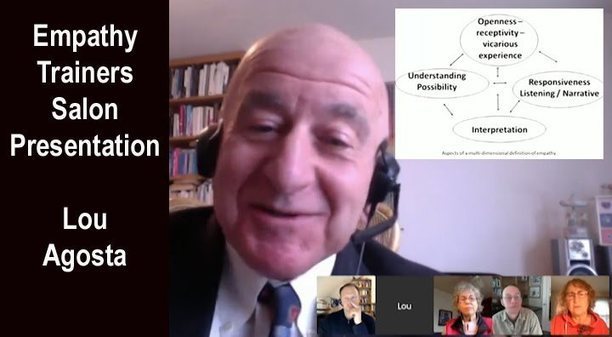 Six experienced Empathy Trainers share their experiences, insights, methods, etc. for teaching empathy. This is to build momentum for launching and building the Empathy Training and Curriculum Wiki project. This also helps individual trainers to network, share resources and explore new method
Lou Agosta Is on the faculty of the Illinois School of Professional Psychology. He practices psychotherapy in the Chicago. His area of concentration includes the dynamic containing and transforming of domestic violence and intimate partner abuse. Author of Empathy in the Context of Philosophy and his websiteListeningWithEmpathy.com.

Andrea Cohen
Communications consultant, project developer, and facilitator who has been involved with the Compassionate Listening Project for many years. She is author: Practicing the Art of Compassionate Listening. She has done done extensive empathy and compassion facilitation.

Sascha Bosetzky
He is part of the team at the German,
Akademie Fur Empathie
. He says,
The focus of my research right now is more general as I want to become an empathy expert but soon I will narrow it down as getting the PhD is also one of my objectives.
Kathy McGuire
Deep background in creating community, empathy and focusing process.
Teaching self help skills
, Rogerian empathic listening and Eugene Gendlin's experiential focusing, for 40+ years. She did her PhD with Eugene Gendlin.