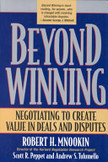 One of the best chapters ever written on empathy is in Robert Mnookin's book *Beyond Winning: Negotiating to Create Value in Deals and Disputes* (Mnookin is the head of the Harvard Program on Negotiation.) In the 2nd chapter in his book, titled "The Tension Between Empathy and Assertiveness".
Mnookin defines empathy as "the process of demonstrating an accurate, nonjudgmental understanding of the other side's needs, issues, and perspective." He goes on to say that "Empathy does not require people to have sympathy for another's plight – – to 'feel their pain.' Nor is empathy about being nice…….
Empathizing with someone, therefore, does not mean agreeing with or even necessarily liking the other side." Mnookin's chapter is assigned reading in my course in the MBA program at Georgetown University's McDonough School of Business.