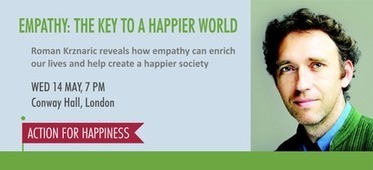 Empathy: the key to a happier world
Join us for an inspiring evening with Roman Krznaric as he reveals how empathy can enrich our lives and help create a happier and more caring world.
Roman will explain how we can boost our empathy and use it to improve our relationships, enhance our creativity, rethink our priorities in life and tackle social problems – from everyday prejudice to violent conflicts.
About Roman Krznaric
Roman Krznaric is a cultural thinker and writer on the art of living. He is a founding faculty member of The School of Life and advises organisations including Oxfam and the United Nations on using empathy and conversation to create social change. He is also founder of the world's first Empathy Library.
Roman's latest book is Empathy:
A Handbook for Revolution.