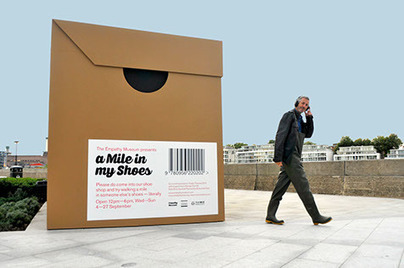 The Empathy Museum's first exhibit is a shoe shop where visitors are invited to walk a mile in someone else's shoes – literally.
With contributions that range from a sewer worker to a sex worker the stories cover different aspects of life, from loss and grief to hope and love and take the visitor on an empathetic as well as a physical journey. A Mile in My Shoes opened in London as part of Totally Thames Festival 2015 (supported by Wanda One UK).
In February/March 2016 we exhibited as part of the Perth International Arts Festival with 31 new stories and pairs of shoes from Western Australia collected with local producers Centre for Stories. During our time in Perth we welcomed over 3,500 visitors to walk a mile in a stranger's shoes. Listen to a selection of the stories below or visit our SoundCloud playlist for more.