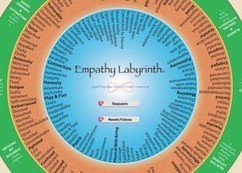 Do you yearn for more joyful empathic connection, and peace and harmony with family, friends, and colleagues?
Marc Weiner, from the Empathy Labyrinth Center, will lead a free workshop focused on self-empathy, listening skills, and experiencing the power of Compassionate Communication.
The Empathy Labyrinth is an engaging tool Marc developed to make the skills of Non-Violent Communication more accessible and fun to learn.