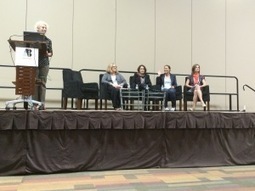 So, one of the major points from the panel, and something I generally like to do but haven't recently, is: GET OUT AND TALK TO YOUR USERS!
The panelists,
Jenn Anderson (Intuit),
Beth Lingard (AnswerLab),
Nancy Dickenson (UX Consultant),
Bethany Pickard (Google),
Hilary Karls (Uber),
acknowledged that this can take time but also stressed how valuable it is to take time to connect with your team over the design of your solution, as well as your user, about the experience of your solution. It all fits into the way I've learned the player-centric, iterative design process, we use at work to teach non-technical students how to prototype games for impact.
==============================
the panel shared their stories of the intersection of empathy and product design
==========

by JULI JAMES